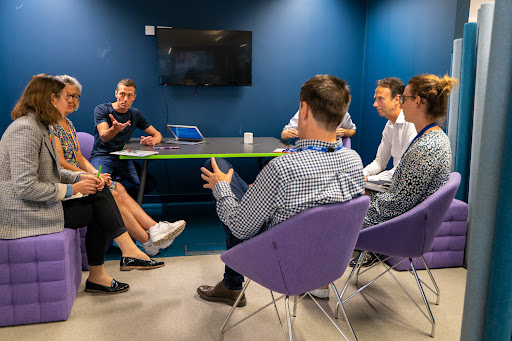 Our senior civil servants (SCS) do an amazing job of leading teams who are vital to the delivery of government services and priorities in a variety of challenging situations. Evermore crucial to that delivery is digital. 
Of course those SCS who work within the digital, data and technology (DDaT) field are vitally important, however, it is also key that we at the Central Digital and Data Office (CDDO)  support and empower those SCS who are non DDaT focused to operate in an increasingly digital world. 
Embracing digital transformation
To do so we are excited to be hosting an Autumn of Digital Learning, which is a programme of events designed specifically for the digital learning and development of SCS and their teams to achieve their digital goals as part of the roadmap for digital and data transformation led by the CDDO
This directly links to our commitment set out in my blog to provide appropriate learning opportunities to meet the DDaT Essentials which we published in late May 2022.
The events' schedule 
Something is happening every week to help the government's transformation and upskilling within the DDaT and Innovation space. See the programme of events below and follow CDDO on EventBrite for updates. 
These events are only open to public sector employees, please use a gov.uk email address when registering.
Other opportunities
Senior Civil Servants and those working in grade 6 and 7 roles who already completed the Innovation Masterclass Programme are invited to take up the Data Masterclass - please reach out to Data.Masterclass@ons.gov.uk
Other courses we feel may be of interest to anyone who would like to know more about DDaT and Innovation: 
Agile Awareness Workshop

: Covering the fundamental principles and methods of Agile, this course is necessary for anyone who wants to develop an innovative mindset. Be inspired to adopt this approach within your own team, challenging traditional and sometimes inefficient forms of delivery.

Debiasing Decision-making in government:

We know that user needs should be at the centre of all we do. Learn how to use behavioural insights to counter our cognitive biases and make better calibrated decisions. It's the next step to better project planning, delivery and policy outcomes.

Policy to delivery

:

a face to face course that focuses on multidisciplinary working that frontloads technical expertise and subject matter expertise; evidence-led policy and service design focusing on citizen-centred design and systems thinking; end-to-end delivery that joins up policy intent to delivery outcomes to assure public value early. Email Andrew.KNIGHT@policyprofession.gov.uk for more information.